Regular price
$120.00 USD
Sale price
$95.00 USD
Unit price
per
Sale
Sold out
Deep Down Collection
Formulated for acne prone skin
Acne is not merely a cosmetic problem. Acne is an inflammatory skin disorder characterized by pimples, blackheads, and whiteheads caused by overactive oil glands. The skin actually breathes when pores aren't clogged. Dirt, dust, oils, and grime from pollution also clog the pores. Proper skincare is very important in the treatment of acne.

(1) Deep Down Facial Cleanser - 10 oz
(1) Deep Down Toner - 4 oz
(1) Deep Down Facial Serum - 2 oz
(1) Under Eye Cream - .5 oz
Antibacterial and anti-fungal properties that aid in healing blemishes
Reduces dark spots caused by outbreaks
Aids in scar prevention
Promotes healing and tissue repairs
Aids in circulation which increases blood to the surface of the skin
Leaves skin squeaky clean but does not strip your skin
Dissolves blackheads without over-drying
Purifying should be done twice a day (morning and evening). Make-up and sun block should always be removed in the evening
Minimizes appearance of pores, absorbs excess oil, hydrates, tones and enlivens all skin conditions
Leaves skin hydrated and radiant
Deep Down Cleanser - Aqua, Raw African White Soap, Coco Glucoside, Aloe Barbadensis Leaf Juice (Aloe), Melaleuca Alternifolia Leaf (Tea Tree) Oil, Glycerin, Illicium Verum (Star Anise) Seed Extract, Juglans Regina Leaf (Walnut) Extract, Olea Europaea (Olive) Leaf Extract, Cynara Scolymus (Artichoke) Leaf Extract, Capsicum Frutescens (Cayenne) Fruit Extract, Xantham Gum, Lavandula Angustifolia (Lavender) Oil, Rosa Damascena (Rose) Oil, & Lactobacillus
Deep Down Toner - Aqua, Aloe Barbadensis Leaf Juice (Aloe), Melaleuca Alternafolia (Tea Tree) Leaf Water, Fragaria Ananassa (Strawberry) Fruit Extract, Hamamelis Virginana (With Hazel) Water **Alcohol-Free, Lawsonia Inermis (Henna) Extract, Trifolium Pratense (Red Clover) Extract, Lavandula Angustifolia (Lavender) Oil, Glycerin, & Sodium Phytate
Deep Down Serum - Cannabis Sativa (Hemp) Seed Oil, Simmondsia Chinensis (Jojoba) Oil, Corylus Avellana (Hazelnut) Seed Oil, Rosmarinus Officinalis (Rosemary) Leaf Oil, Anthemis Nobilis (Chamomile) Oil, Rosa Damascena (Rose) Oil, Melaleuca Alternafolia (Tea Tree) Leaf Oil & Niacinamide (Vitamin B3)
WARNING: If you are pregnant or nursing, or have sensitive skin, allergies or any serious medical conditions, do not use these products unless advised by a physician or medical professional that it is safe. A skin patch test is always recommended prior to use.
Share
View full details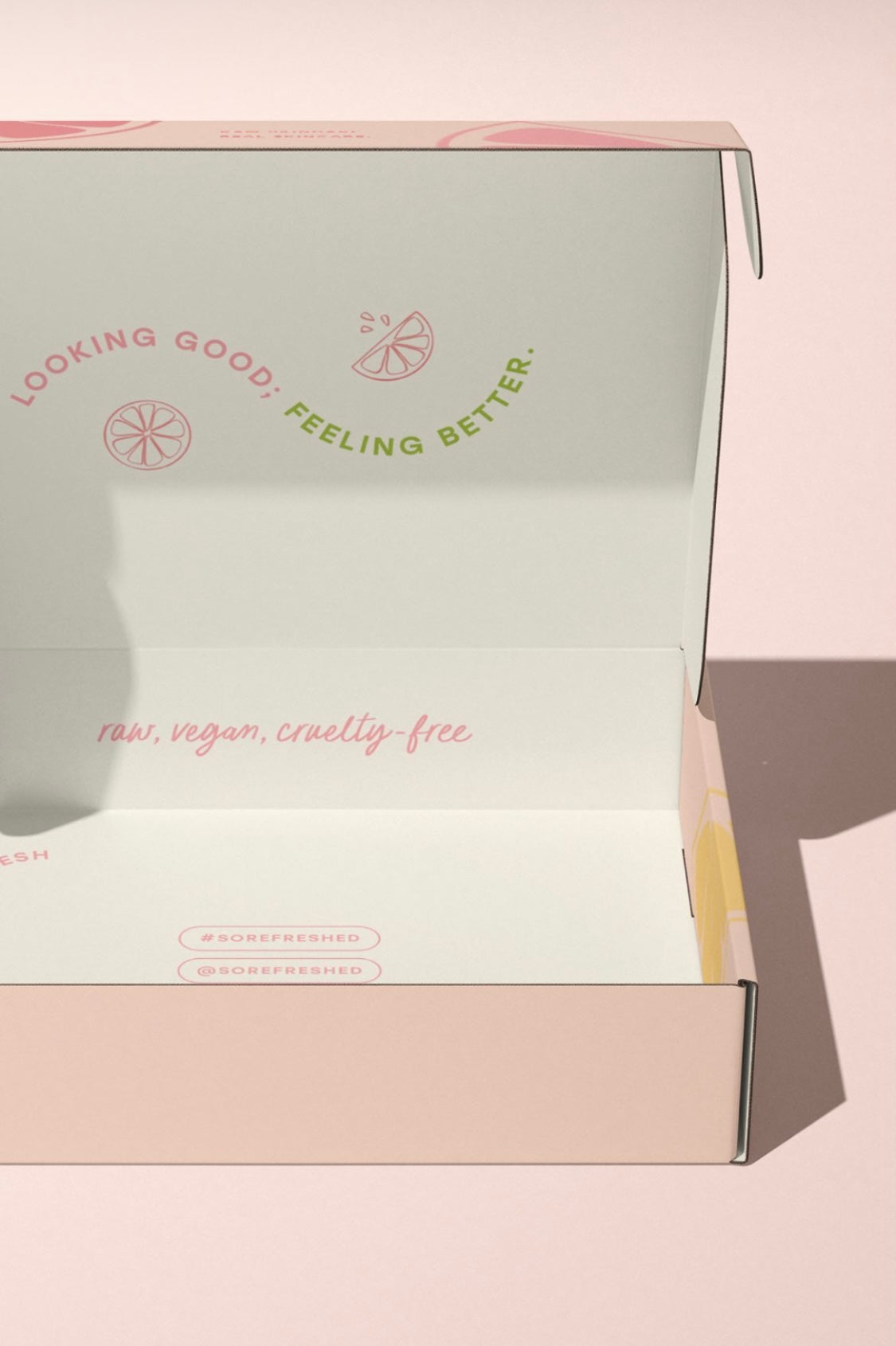 All Orders Made Fresh
No inventory sits on shelves nor do we white label or buy wholesale skincare or feminine care products and resell them to you. All orders are ALWAYS made fresh each time an order is placed.
First Step: Let's Get Rid of the Active Acne
Getting rid of active acne helps eliminate further breakouts. Once that process is finished, then you can focus on removing the scarring.