Regular price
Sale price
$29.99 USD
Unit price
per
Sale
Sold out
The Healer Feminine Oil
A Gentle Solution for Intimate Balance and Well-being
Discover the power of boric acid with our specially formulated Boric Acid Oil. Designed to support intimate health and balance, our oil offers a gentle and effective solution for a variety of intimate concerns.
Promotes Healthy pH Balance: Maintaining a healthy pH balance is crucial for the well-being of your intimate area. Our Boric Acid Oil helps restore and maintain the optimal pH level, creating an environment that discourages the overgrowth of harmful bacteria. It aids in soothing discomfort, itching, and irritation, promoting a sense of freshness and comfort.

Gentle and Effective: Our oil is crafted with care to ensure gentleness while delivering effective results. It is formulated with pharmaceutical-grade boric acid, known for its antimicrobial and antifungal properties. The gentle application of our oil can provide relief and support for various common intimate concerns.
Easy-to-Use: Our oil comes in a convenient dropper bottle, allowing for precise and mess-free application. The dropper allows you to control the amount you use, ensuring optimal effectiveness and minimal waste. Incorporating our Boric Acid Oil into your intimate care routine is simple and hassle-free.

Trusted Quality: We prioritize your well-being and safety. Our Boric Acid Oil is produced in adherence to strict quality standards, ensuring purity, potency, and consistency. We source our ingredients from trusted suppliers and conduct rigorous testing to ensure the highest level of product quality and efficacy.

Recommended by Healthcare Professionals: Our Boric Acid Oil is trusted and recommended by healthcare professionals, gynecologists, and women who have experienced the benefits firsthand. It has been utilized as a natural remedy for maintaining intimate health and addressing common concerns for many years.

Discreet Packaging: We understand the importance of privacy. Our product is packaged discreetly, without external branding, to respect your confidentiality and ensure a discreet and secure delivery process.
Cocos Nucifera (Coconut) Oil, Tocopherol (Vitamin E), Astragalus Membranaceus (Astragalus) Root Extract, Echinacea Angustifolia (Echinacea) Extract, Anthemis Nobilis (Chamomile) Flower Oil, Lavandula Angustifolia (Lavender) Oil, & Boric Acid
For maximum hydrating, apply a small amount to external area after thoroughly cleansing with Feminine Wash. Use this product once per day or as needed for best results.
WARNING: If you are pregnant or nursing, or have sensitive skin, allergies or any serious medical conditions, do not use these products unless advised by a physician or medical professional that it is safe. A skin patch test is always recommended prior to use. This product should not be used internally.
Share
View full details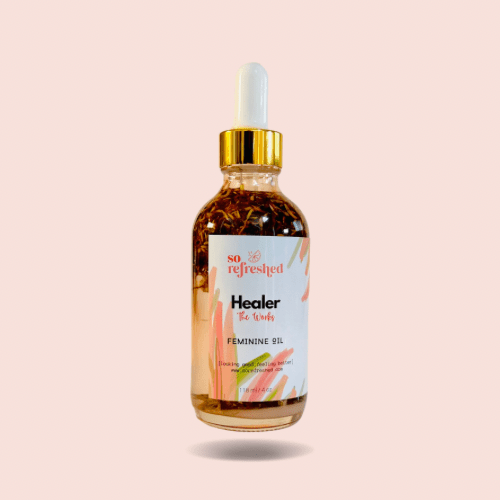 All Orders Made Fresh
No inventory sits on shelves nor do we white label or buy wholesale skincare or feminine care products and resell them to you. All orders are ALWAYS made fresh each time an order is placed.
First Step: Let's Get Rid of the Active Acne
Getting rid of active acne helps eliminate further breakouts. Once that process is finished, then you can focus on removing the scarring.